Transformed over 10,000 individuals with emphasis on leadership, and organizational behavior. A passionate Academician, Qualitative Researcher and Corporate Trainer, Focus on Design Thinking and Leadership As a Trainer, Motivational Speaker; I am passionate about achieving and contributing to outcome-focused results. Contributing, Collaborating to achieve my expedition using the medium of experiential learning in my handcrafted training programmes My mission in life is not merely to live to tell the tale, but to flourish; and to do so with some passion, some empathy, some intelligence, and some style by igniting the human potential. As my name is derived from the Sanskrit name Deepawali- Row of lamps "Dipaali" stands for living a Lit up Life to nurture and nourish every life which gets associated with me since life is a mindset game. Igniting the mindset is what matters… 
Dr. Dipaali Pulekar (MBA, Leadership Trainer, Industry Readiness and Behavioral Trainer, PhD in Qualitative Research - A study on Transformational Leadership and Institution Building). She is a Leadership Trainer on Timeless lessons from the leadership skills from Chhatrapati Shivaji Raje Bhosale.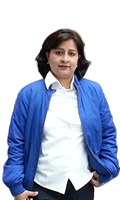 During my 14 years of corporate and educational experience, I was fortunate to be endowed with rich and varied experience in delivering outcome based andragogy. During this tenure, I upskilled myself with passion for education and architected my classroom sessions, training sessions with a dash of experiential spice. The experiential sessions garnered the engagement of the audience. 
Holistic Conscious Approach
As management educator partnering with wisdom Promoters, Directors, Teachers and premier institutions. I strongly believe that the every single stakeholder need to celebrate and integrated, collaborative holistic and conscious approach with the best guidance. 
I work with Human Resource Leaders, Training Managers, Team Leaders, Senior Management, Students and Parents to create a collaborative essence of individual growth. Through my high impact, energy sessions engage, transform and empower my learners through outbound and personalized coaching.
Specially Made Workshops & Programs
The specially architected workshops have focused on result driven performance. The programs are highly crafted to facilitate engagement and satisfaction.
Check What my fellow students and colleagues want to say about me.
Managing Director – S D Cargo Pvt Limited  
"Aenean sollicitudin, lorem quis auctor, nisi elit consequat ipsum, nec sagittis sem nibh id elit. Duis sed odio sit amet nibh vulputate cursus a sit."
Financial Manager at Acme
"Aenean sollicitudin, lorem quis auctor, nisi elit consequat ipsum, nec sagittis sem nibh id elit. Duis sed odio sit amet nibh vulputate cursus a sit."
Assistant Buyer at Globex
"Aenean sollicitudin, lorem quis auctor, nisi elit consequat ipsum, nec sagittis sem nibh id elit. Duis sed odio sit amet nibh vulputate cursus a sit."