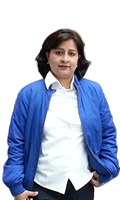 Faculty Development Program
Participated in National Workshop on Qualitative Research Methodology from 28 July to July 30, 2016 ( TISS ).

A Faculty Development Programme on " How to write a book". January 2016.

Participated in Lear Automotive India Pvt Ltd for Job Shadowing Training in December 2017.

Executed Live Project at Sun Apparels.

Participated in Case study Teaching and Writing organized by TIMSR in December 2013.

Participated in SNDT Women's University for Research Methodology workshop 2012.

Participated in Western Regional Center Indian Council of Social Science Research for Workshop on Research Methodology in Social Sciences – 2015.

Participated in Case Development Workshop conducted at TIMSR April 2017.

Participated in 3 days National Workshop on Qualitative Research Methodology in July 2016.

Participated in Dale Carnegie's programme on How to Master the Secrets of Charismatic Leadership 2017. 
Experiential Learning Expertise through
Audio cases, Video resume, Live projects in HR, Alumni Mentoring, HR intervention in the respective subject, Latest certification programme, Book Reviews, Shop Floor Visits, Case Method of Learning.
AIMA Delhi 
CEGR Delhi       
Corporate Training / Management Development Programme
A one- day, Management Development Program on "Seven Habits of Highly Effective People" Stephen Covey on March 17, 2018, at TIMSR.

A one-day Management Development Program on "Managing Pressure Effectively for Better Performance" on March 10, 2017.

Trainer for employee engagement and business etiquettes for Banka and Banka a CA firm

Mahindra and Mahindra Trade Union Leaders of Automotive Division for the topic on Managing Interpersonal Effectiveness – generation Y February 17, 2016

Conducted Daily Mindfulness Session with TIMSR Faculty and Non-Teaching Staff

Manipal University for Online-MBA (HR) for ICICI bank Employees in April 2010 and October 2010

Trainer SD Cargo Ltd Service Orientation for the front desk staff for productivity through Etiquettes, January 2012

Trainer and Designer for Maharashtra Police Officers, Marol for the Havaldar and Dy.Sp cadre
1. 2018, WEBSITE – People Matters.in – Check Article
2. 2016, Bliss Equity Magazine
3. 2010, Appreciation is the key to a happy workplace,Merinews.com
4. 2009, Managing your Boss, Merinews.com
5. 2009, Walk a job: The B-Schools are witnessing a different scene this year ? Recession , Educationtimes.com
6. 2007, Tips for corporate recruiters and B-School Graduates, Merinews.com
7. 2007, Policing the Traffic Optimally, Merinews.com
8. 2007, The importance of goal setting, Merinews.com
Are you Looking for Some Help?
Check What my fellow students and colleagues want to say about me.
Managing Director S D Cargo Pvt Limited 
"Aenean sollicitudin, lorem quis auctor, nisi elit consequat ipsum, nec sagittis sem nibh id elit. Duis sed odio sit amet nibh vulputate cursus a sit."
Financial Manager at Acme
"Aenean sollicitudin, lorem quis auctor, nisi elit consequat ipsum, nec sagittis sem nibh id elit. Duis sed odio sit amet nibh vulputate cursus a sit."
Assistant Buyer at Globex
"Aenean sollicitudin, lorem quis auctor, nisi elit consequat ipsum, nec sagittis sem nibh id elit. Duis sed odio sit amet nibh vulputate cursus a sit."